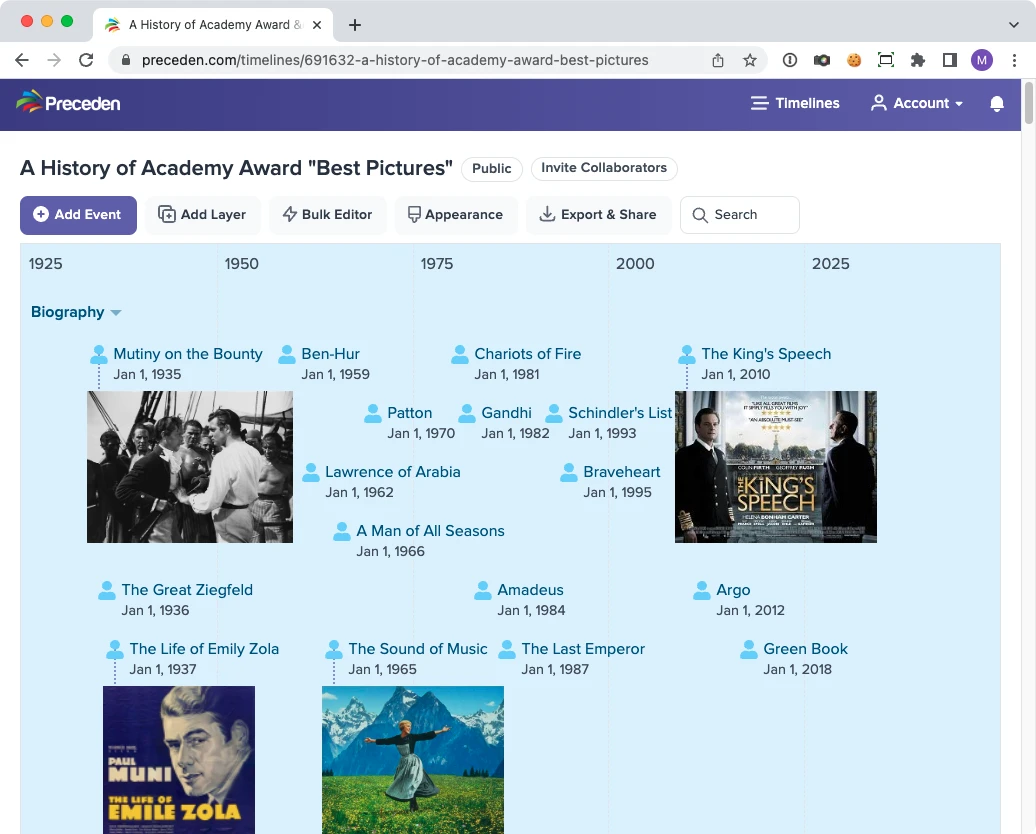 I tested several interactive timeline maker tools and chose Preceden because of its aesthetic and ease of use. Other tools were clunky and didn't really have the features that I needed such as layers or templates. With Preceden, I was able to customize my timeline and create a timeline that I can insert in a presentation or have a beautiful printout to share. Read More
Improve Your Understanding of History
Preceden timelines let you see relationships between historical events with ease, making it a much more effective learning tool compared to studying a long list of dates.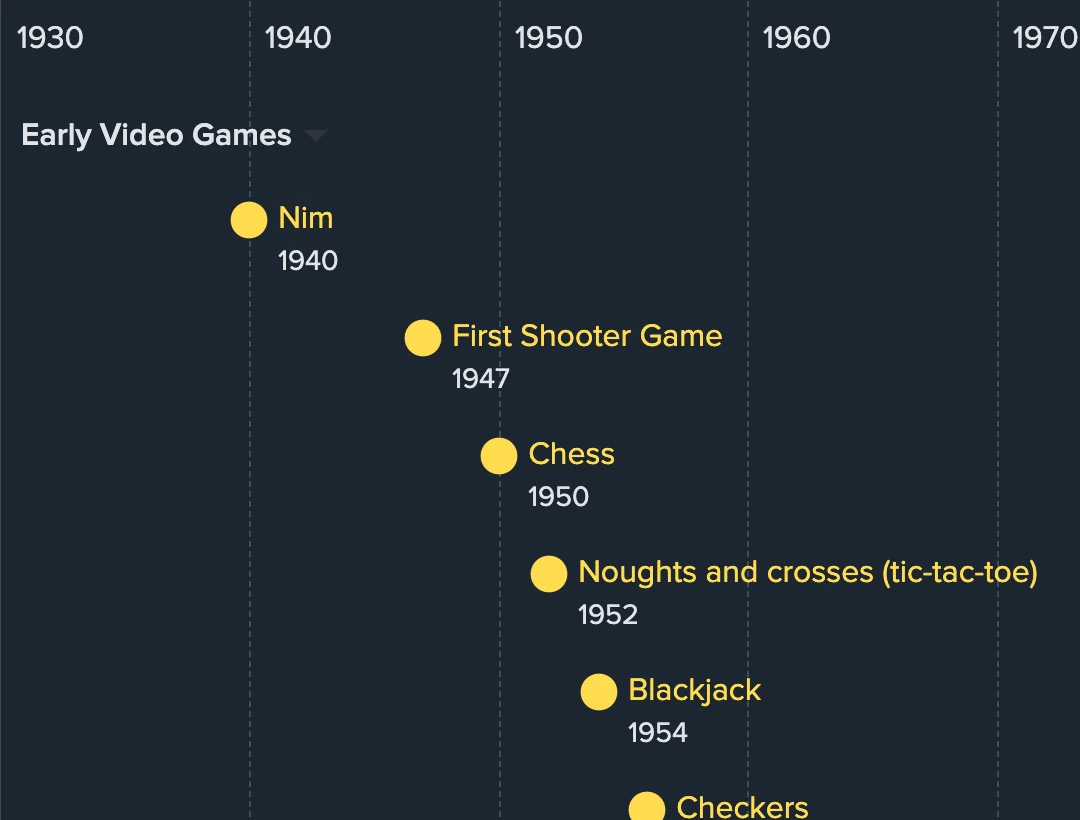 Everything You Need to Create Your Timeline
With event notes, approximate start and end dates, BC dates, flexible date formats, images, icons, and much more, you'll have everything you need to create a clear historical timeline.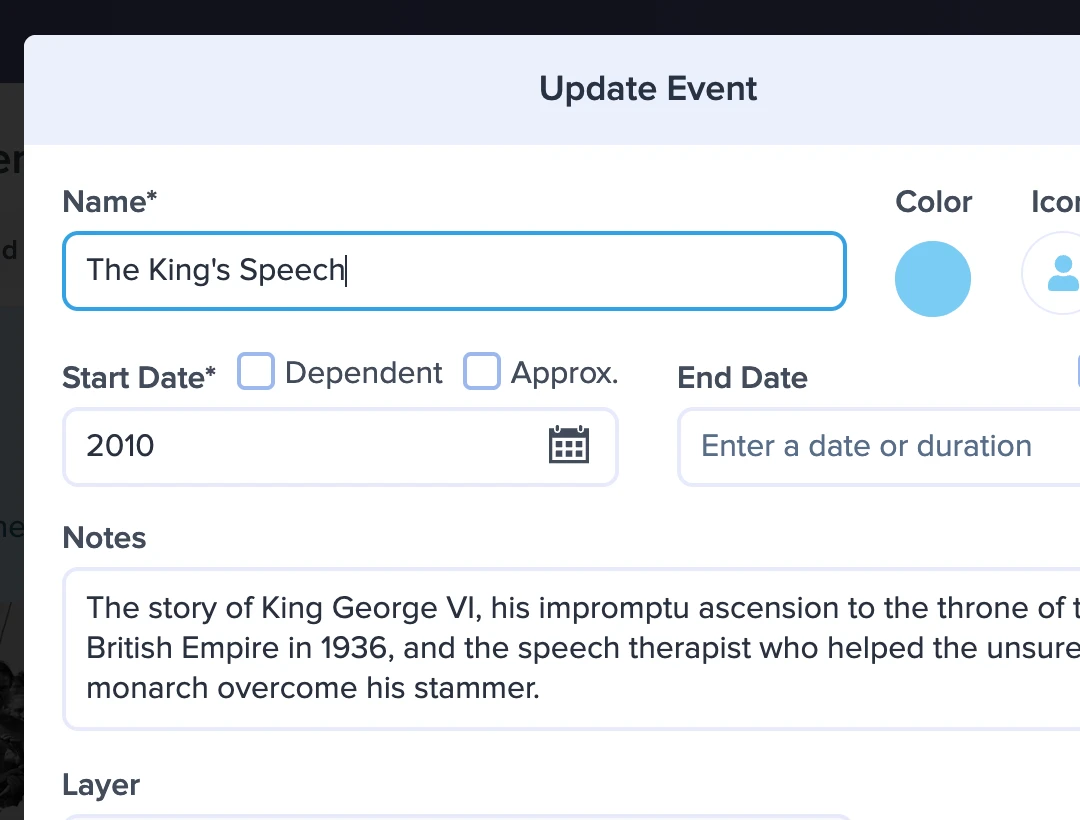 Share With Ease
When you're finished with your timeline, you can share it in a variety of ways including by link or PDF.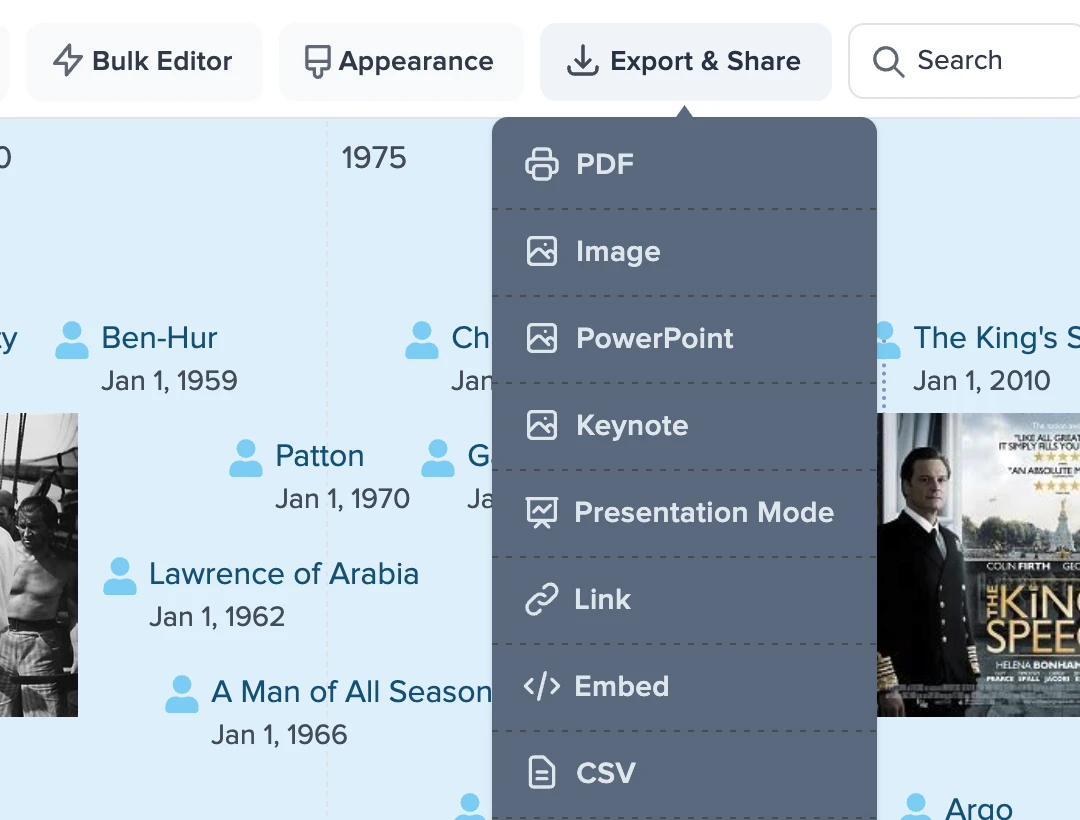 Everything You Need to Create a Timeline
Here's why Preceden is the perfect timeline creator for you.
Drag and Drop
Reposition events in seconds to adjust how your timeline is laid out.
Zoom
View all events at once or zoom in to focus on a specific period.
Connections
Highlight relationships by visually connecting events on your timeline.
Bulk Editor
Add events individually or take advantage of our bulk editor to add multiple historical events quickly.
Time Support
Specify specific times for when events started and ended for more granular timelines.
Privacy Controls
Control who can see your timeline by making it public, private, password-protected, or accessible via a secret URL.
Images
Upload images or search the web for creative commons photos to display on your timelines.
Themes
Choose from one of our themes to customize the appearance of your timelines.
Approximate Dates
Mark event dates as approximate to signal to viewers that the exact date is unknown.
Search & Filter
Filter events in your history timeline with Preceden's built-in search tool.
Optional End Dates
Visualize events as a bar (for events with an end date) or as an icon (for events without an end date).
Icons
Choose from over 4,600 icons to better convey what events represent.
Notes
Add additional details by adding notes about events, layers, and the timeline itself.
BC Dates
Create timelines that took place thousands of years ago.
Date Picker
Use our date picker to quickly select a date or type it in for greater control over the format.
What Others Are Saying About Preceden
Preceden makes it incredibly easy for me to keep track of important milestones in my business and personal life. I like to be able to quickly look up the dates of important past events and Preceden lets me do just that. Read More
I settled on Preceden as it is more about compiling information in multiple layers with a lot of capacity for text. I was not interested in a 'more show than go' product that looked like elementary students might use it. I am more interested in Preceden's organizational features and storing lots and lots of notes. This is not a toy. Preceden's timeline creator is for serious scholarship. Read More
Preceden is an amazing tool and I am telling everyone about my experience. I am a volunteer for our HOA and I have been asking for an election timeline from our management company for a while, but I don't think that they had the bandwidth to research it. So I did, and found your website, and I was able to make a beautiful timeline in minutes!
I use Preceden for gaining an understanding of early Christian church history from the time of the Apostles through the time of the great schism in 1054 primarily. Preceden has been invaluable for gaining insight into the development of scripture manuscripts, doctrines, and ecclesiastical relationships through the centuries.
I teach art classes and I used Preceden to create an art history timeline to embed on my business website. I tried making a timeline using a spreadsheet, but it couldn't do what I needed. Preceden is the right tool for my goals: very easy to use, visually pleasing, and easy to import to my site.
Preceden makes it so much easier to present a complicated multi-year story to the press. The process of putting all of the events onto a timeline has even given me several 'Ah ha!' moments — I'm seeing connections I wasn't aware of before!
I've been using Preceden since 2014 for creating timelines for my writing and for other media such as movies, TV series, etc. Having both an actual laid out timeline as well as a list of its events makes it easy to see the continuties of all the stories.
Preceden is to me an invaluable resource for me to study and keep a record of things that happen in my life. Last year, while studying history, it was extremely practical to use Preceden to organize events and general historical periods, so that I got that visual idea of the order everything happened in. Now, studying architecture, it is very helpful to plan out project timelines and to keep a record of previous projects.
Preceden has been a great tool for my thesis in which I have considerably enjoyed its convenience for encapsulating significant events. Anyone who seeks to create elegant and useful timelines will enjoy Preceden's practical interface.
As a Civil War battlefield guide, I needed a way to keep track of when various events during battles and campaigns took place. I tried several other timeline makers, but most had complicated interfaces with a steep learning curve. Preceden lets me display historical events in chronological order and easily integrate maps, photos and text allows me to develop and plan guided tours for my clients. It makes staying organized so much easier!
I'm one of those guys that forget things... a lot. Trying to figure out my past professional works while writing a resume, I wanted a simple to use tool to help me remember all of them. Preceden came in to the rescue! I use it now to keep a timeline of important events in my lf so I never forget anymore!
I'm using Preceden to make history timelines and to track important events in my personal life. Out of all timeline makers I've tried so far, Preceden is by far the most user-friendly. I especially love the way you can organize timelines in clear layers.
Preceden helps me keep track of my own life for memory's sake: when I worked certain jobs, what bands I was in, where I was going to school, holidays, etc. I'm a huge fan!
I absolutely love your application - Preceden. I just began using it and it flows just like my mind views things. It's so intuitive to use... I upgraded to a paid plan within an hour of signing up.
I am using Preceden to make a historical overview of my dissertation process. The layers are very helpful because they let me analyze different aspects of the process that occur simultaneously. I also love the colors, the user-friendliness, the space for comments, and just in general how intuitive it is.
Preceden provides a very quick way to put events in context, and the product often leads to new insights about why people were in certain places, why they did what they did, who was (or what events were) influencing their decisions etc. The notes field is critical and much appreciated. Great job!
How do I make a timeline with Preceden?
After you sign up, you'll set the timeline's name and select from one of our beautifully designed themes. As you add events Preceden will automatically update the timeline visualization to take into account the new events.
Why choose Preceden?
People choose Preceden because of its intuitive user interface and powerful visualization features that make it easy to create timelines quickly. With Preceden there's no need to learn complex software and you'll be up and running in minutes.
Can I really create a timeline for free?
Yes, Preceden has a generous free plan that lets you create unlimited timelines with up to 10 events each at no cost to you. We also have paid plans that let you create timelines with unlimited events and also offer more advanced functionality.
What if I have more questions?
Drop us a note anytime and we'll get back to you shortly: [email protected]