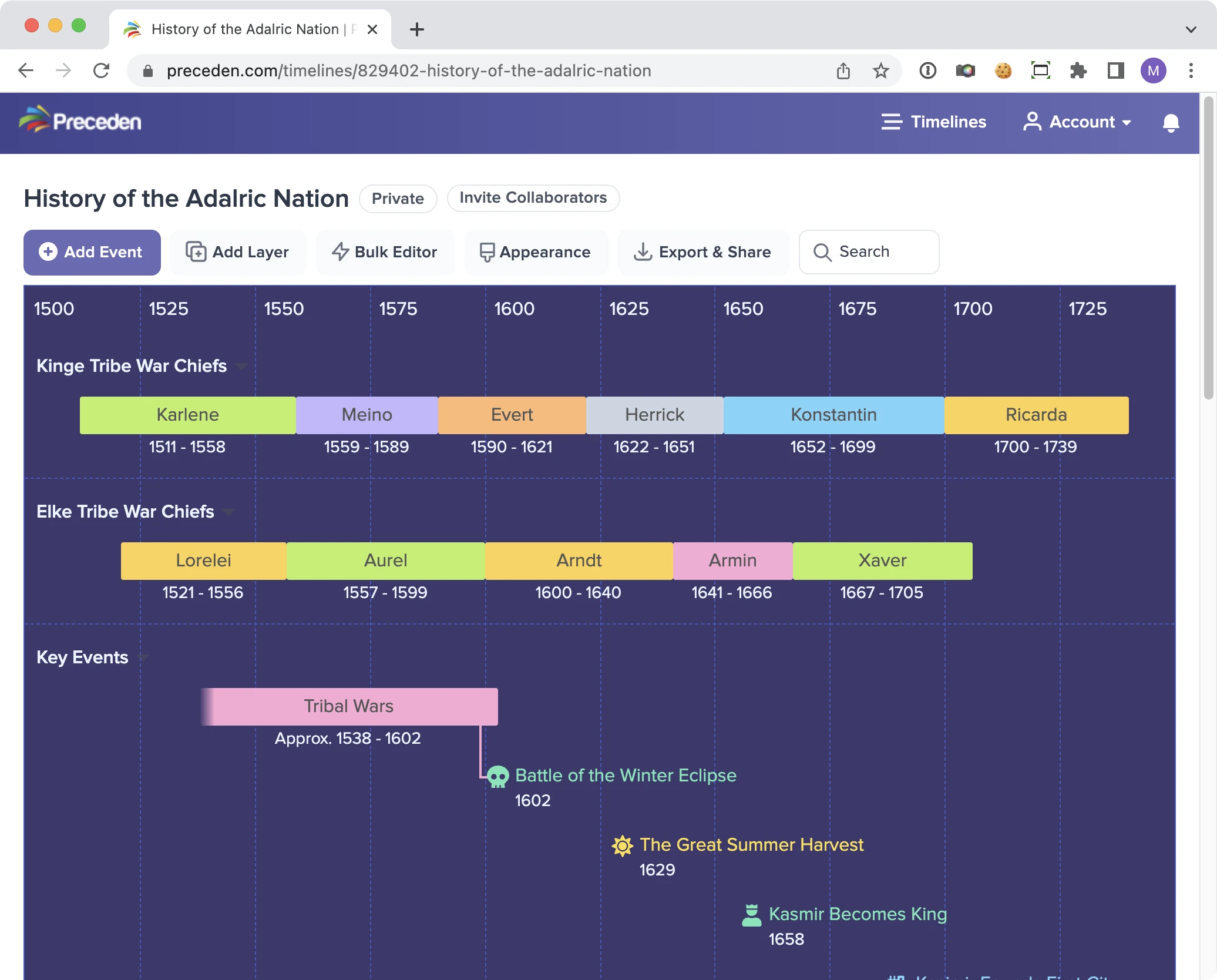 Preceden makes it easy to create multiple timelines to keep track of various aspects of my novels — from creating a single timeline for a character and plotting their life, to an entire fictional history I have created for my novel. Preceden is incredibly valuable for storing information about the places and people we are creating. It has helps us hold our fictional world together across both time and space. Read More
Organize Complex Plots & Character Arcs
By keeping track of your story's plot and characters in a visual timeline, you'll be able to see when all of the events happen relative to other events, allowing you to see relationships and address plot holes that you may have otherwised missed.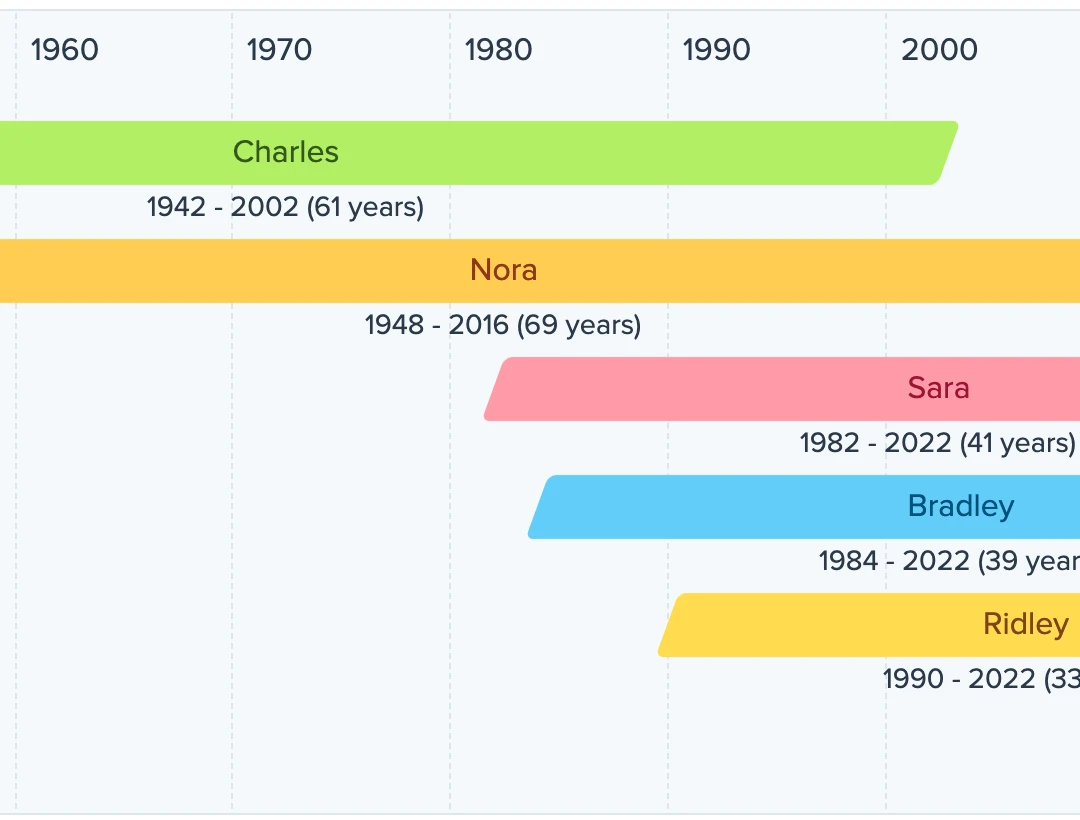 Visualize Complex Stories
With event notes, approximate start and end dates, flexible date formats, images, icons, and much more, you'll have everything you need to create clear character and plot timelines.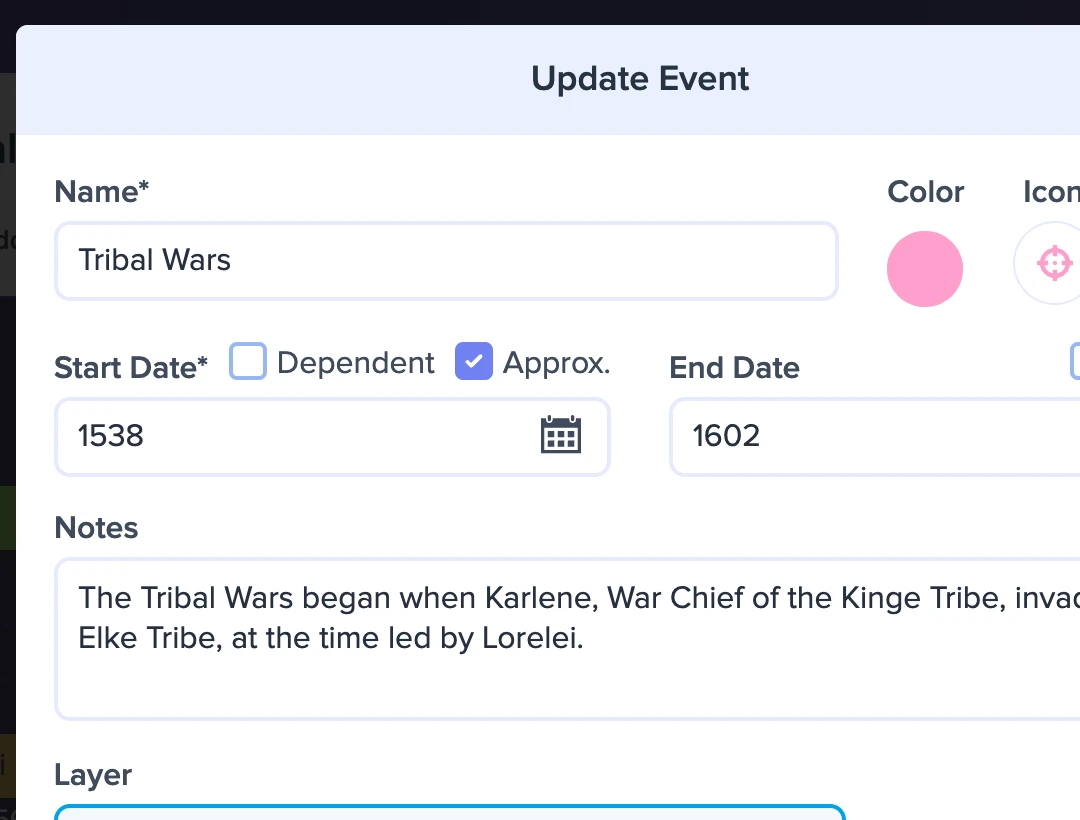 Share and Collaborate with Ease
At any point you can invite others to collaborate on your timeline or you can share it in a variety of ways such as by link, PDF, image, or many other formats.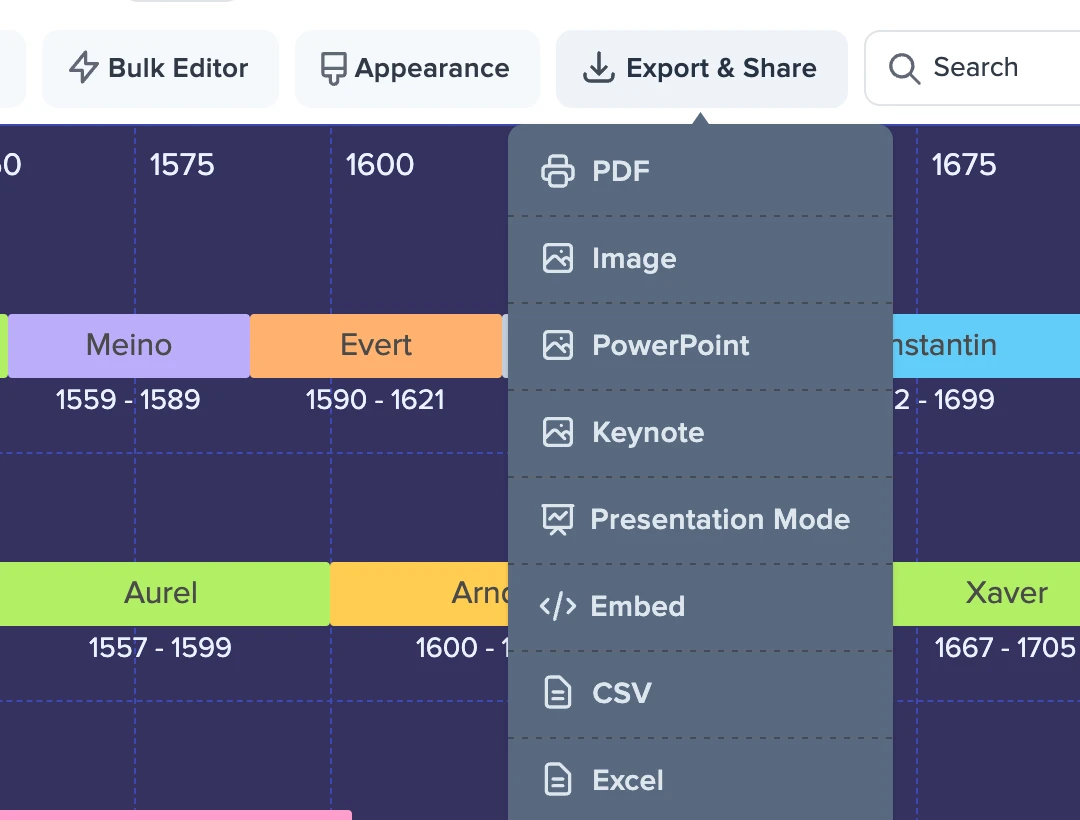 Everything You Need to Create a Timeline for Your Fiction Writing
Here's why Preceden is the perfect timeline creator for authors like you.
Drag and Drop
Reposition events in seconds to adjust adjust dates or how your timeline is laid out.
Zoom
View all of your plot's events at once or zoom in to focus on a specific period.
Connections
Highlight relationships by visually connecting events on your timeline.
Bulk Editor
Add events individually or take advantage of our bulk editor to add multiple events quickly.
Time Support
Specify specific times for when events started and ended for more granular timelines.
Privacy Controls
Control who can see your timeline by making it public, private, password-protected, or accessible via a secret URL.
Images
Upload images or search the web for creative commons photos to display on your timelines.
Themes
Choose from one of our themes to customize the appearance of your timelines.
Approximate Dates
Mark event dates as approximate to signal to viewers that the exact date is unknown.
Search & Filter
Filter events in your novel's timeline with Preceden's built-in search tool.
Optional End Dates
Visualize events as a bar (for events with an end date) or as an icon (for events without an end date).
Icons
Choose from over 4,600 icons to better convey what events represent.
Notes
Add additional details by adding notes about events, layers, and the timeline itself.
BC Dates
Create timelines that took place thousands of years ago or far in the future.
Date Picker
Use our date picker to quickly select a date or type it in for greater control over the format.
What Authors are Saying About Preceden
Working on my novel with such an expansive chronology is no longer difficult to manage now that I have Preceden to help. The many tools it offers my timeline allow me to see the bigger picture of my story, like marking important events for my characters. I no longer have to deal with making eraser marks or fitting all the details onto a single page; Preceden allows for a malleable timeline which I can change as I see fit.
As a speaker, author, and blogger who deals with historical events, Preceden is an invaluable tool. Preceden helps me organize historical information into a clear, attractive, and information-rich format, which is exactly what people are looking for. With its ability to categorize people and information from thousands of years ago, I have yet to find a timeline system that works as well as Preceden.
How do I make a timeline with Preceden?
After you sign up, you'll set the timeline's name (such as the name of your story) and select from one of our beautifully designed themes. As you add events Preceden will automatically update the timeline visualization to take into account the new events.
Why choose Preceden?
Authors choose Preceden because of its intuitive user interface and powerful visualization features that make it easy to detailed create fictional timelines quickly. With Preceden there's no need to learn complex software and you'll be up and running in minutes.
Can I really create a timeline for free?
Yes, Preceden has a generous free plan that lets you create unlimited timelines with up to 10 events each at no cost to you. We also have paid plans that let you create timelines with unlimited events and also offer more advanced functionality.
What if I have more questions?
Drop us a note anytime and we'll get back to you shortly: [email protected]