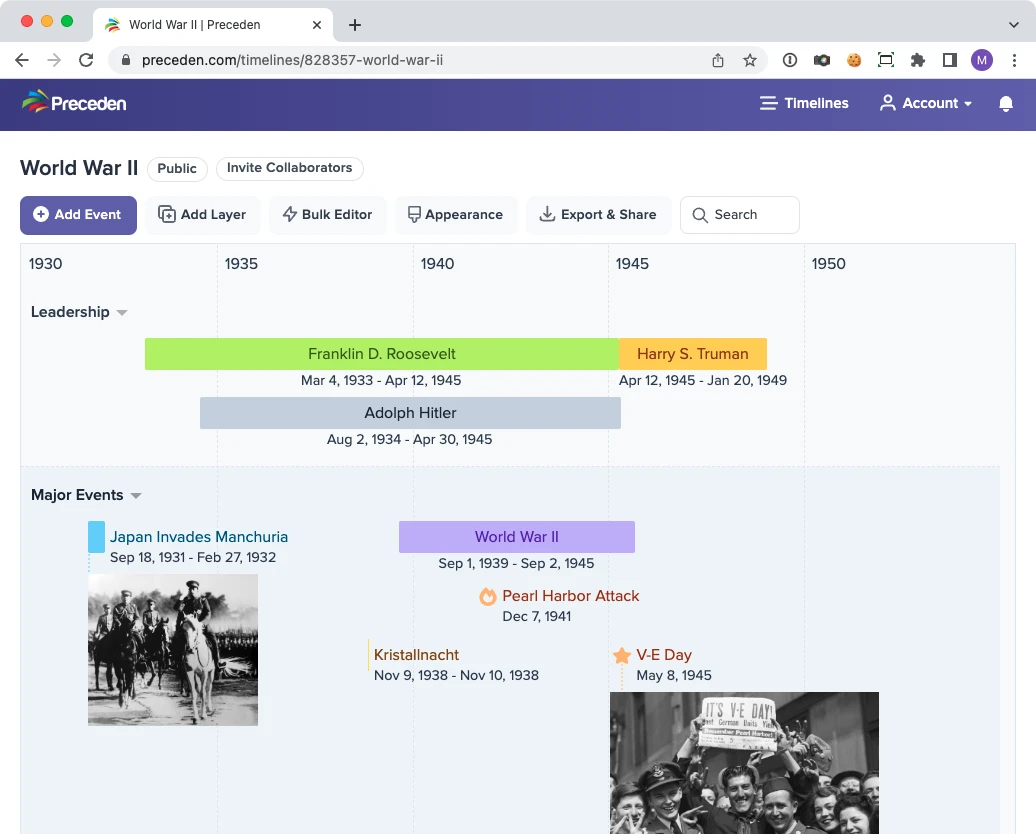 Preceden has been such a helpful tool for learning about history. The layers and color options allow me to see the historical context of an event at a glance. The collaboration feature makes it even more powerful because I can build complex timelines with my fellow students.
Create Timelines for Free
Our free plan lets you created unlimited timelines, perfect for educational timelines about ancient Rome, the history of computers, major events in World War II, and more.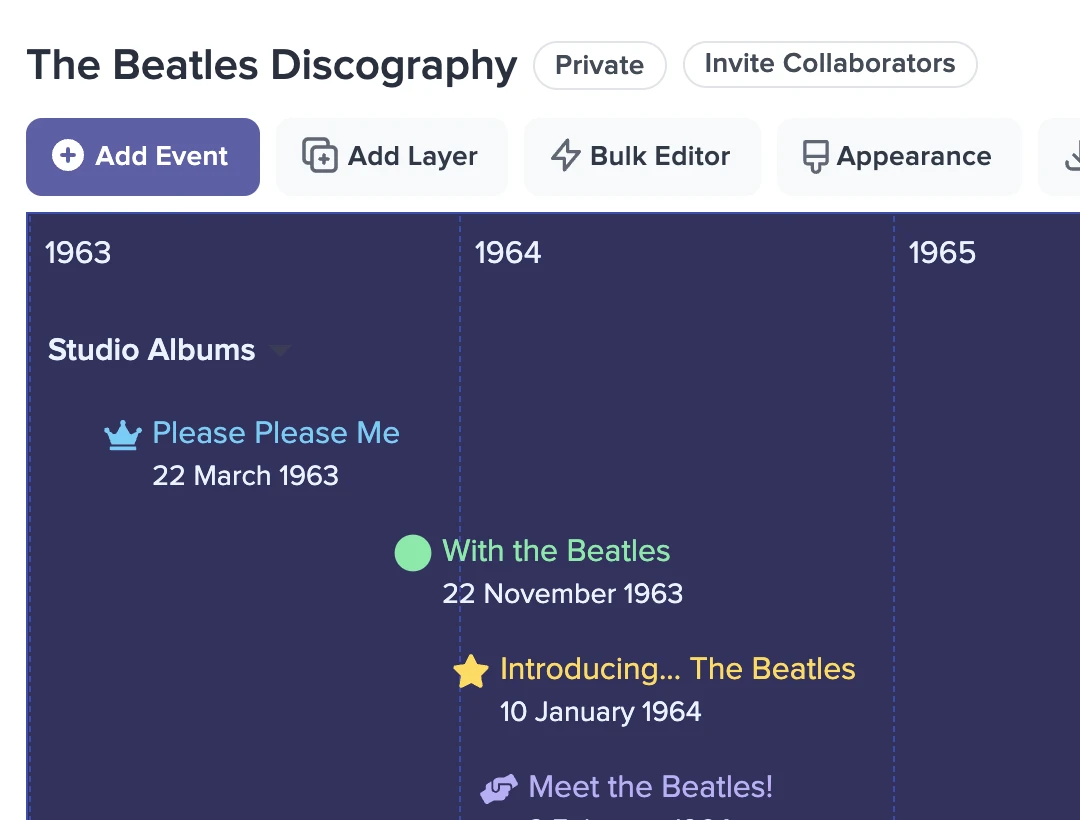 Improve Your Historical Knowledge
Preceden timelines let you easily visualize relationships between historical events, making it a much more effective learning tool compared to studying a long list of dates.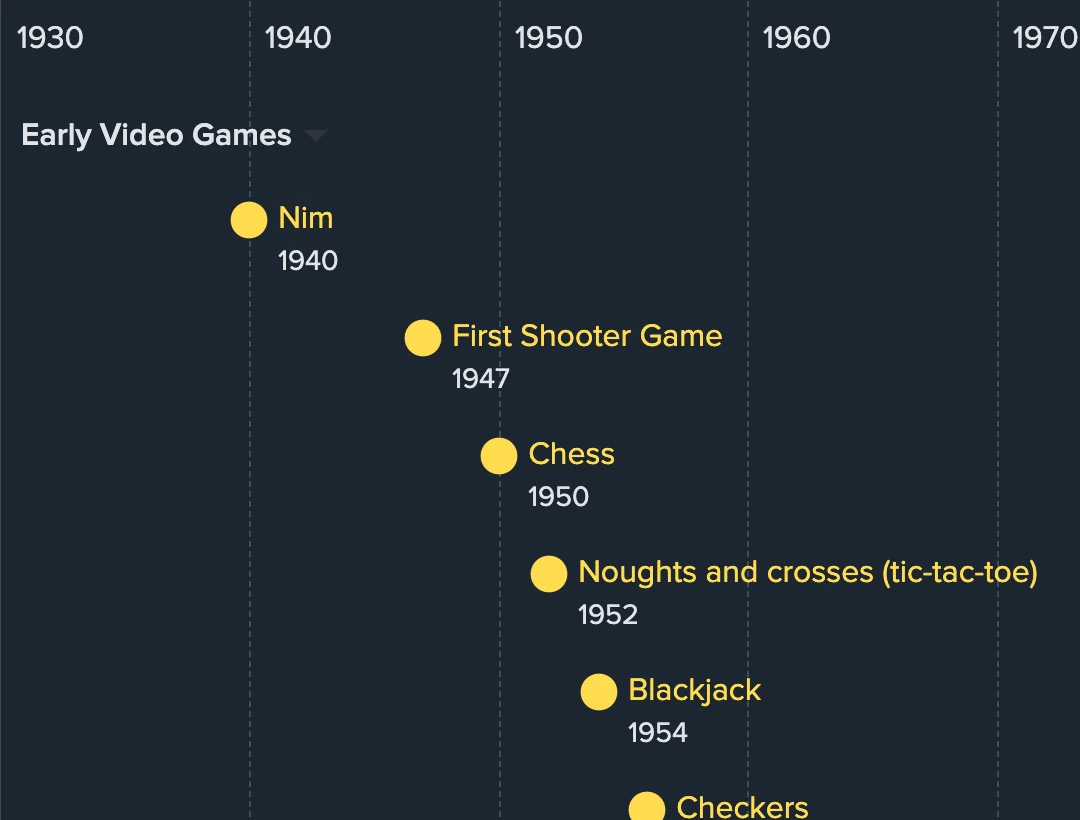 Make Your Timeline in Minutes
With Preceden's simple and intuitive interface, you'll have everything you need at your fingertips to create a stunning timeline visualization.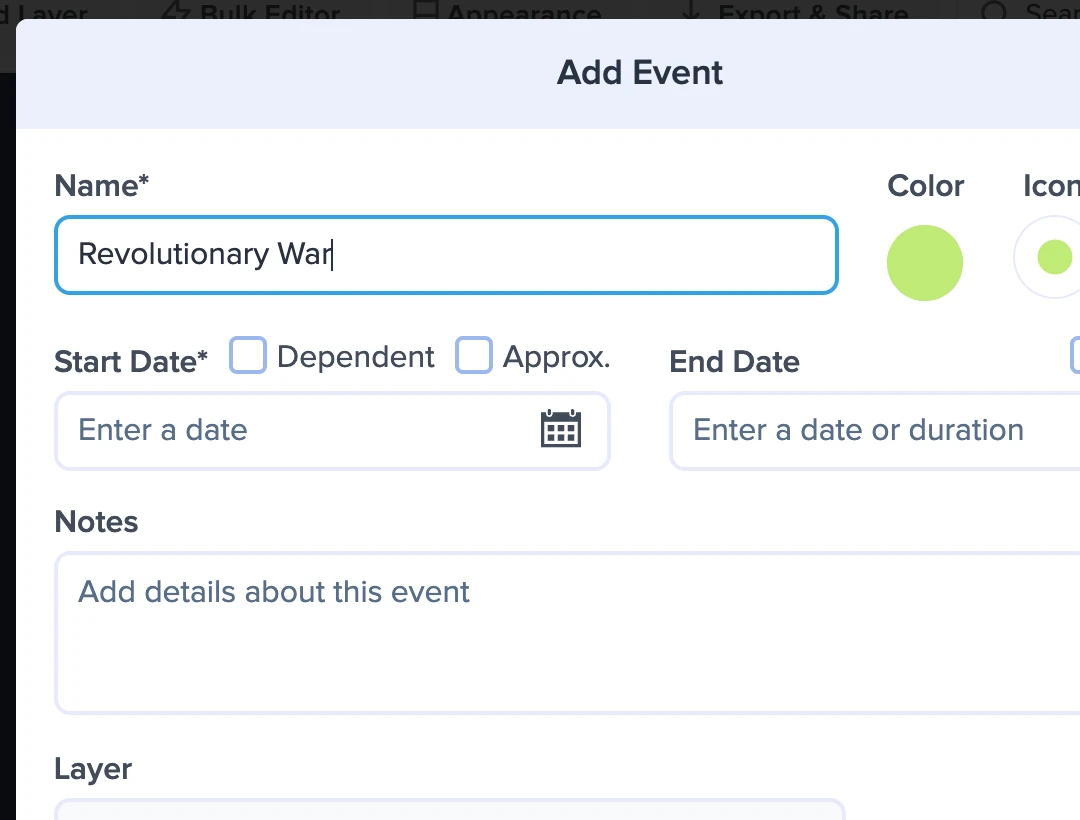 Share With Ease
When you're finished with your timeline you can share it in a variety of ways including by link, PDF, image, CSV, PowerPoint, or our built-in presentation mode.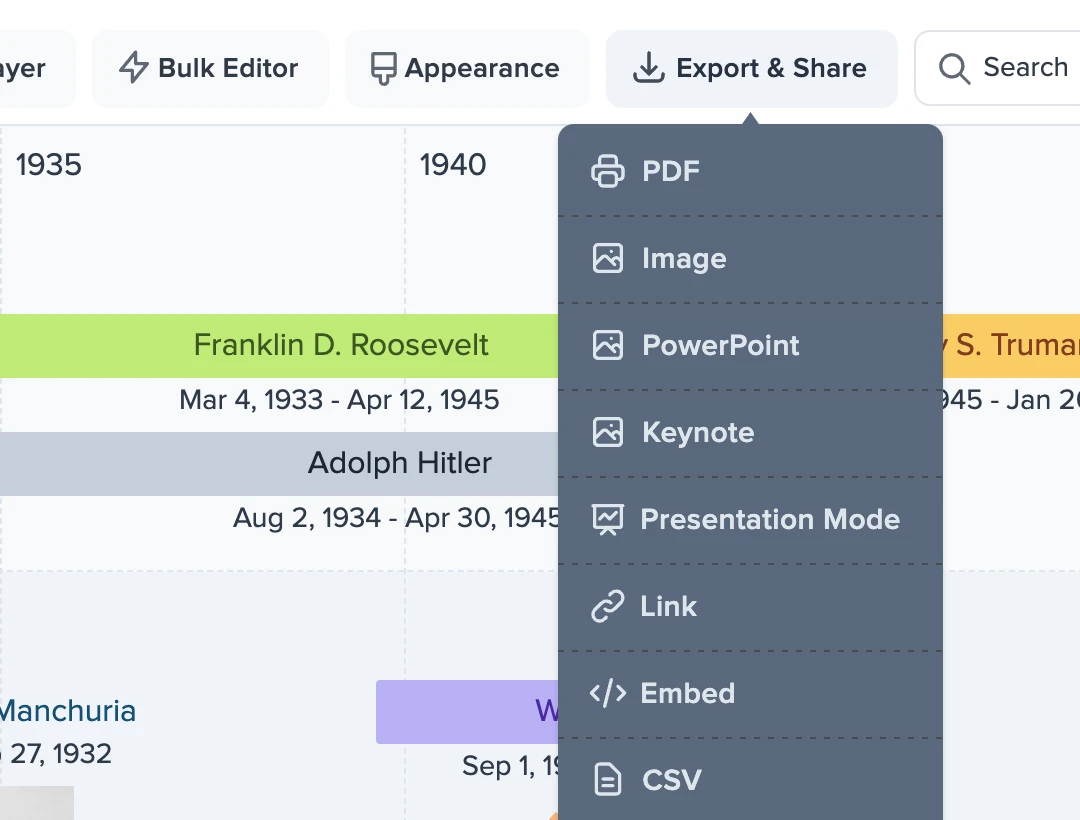 Everything You Need to Create a History Timeline
Here's why Preceden is the perfect history timeline creator for you.
Drag and Drop
Reposition events in seconds to adjust how your timeline is organized.
Zoom
View all events at once or zoom in to focus on a specific historical era.
Connections
Tie key events together by visually connecting them on your timeline.
Bulk Editor
Add events one at a time or take advantage of our bulk editor to add multiple historical events quickly.
Time Support
Specify specific times for when events started and ended for more granular timelines.
Privacy Controls
Control who can see your timeline by making it public, private, password-protected, or accessible via a secret URL.
Images
Upload images or search the web for creative commons photos to display on your timelines.
Themes
Choose from one of our themes to customize the appearance of your timelines.
Approximate Dates
Mark event dates as approximate to signal to viewers that the exact date is unknown.
Search & Filter
Filter events in your history timeline with Preceden's built-in search tool.
Optional End Dates
Visualize events as a bar (for events with an end date) or as an icon (for events without an end date).
Icons
Choose from over 4,600 icons to better convey what events represent.
Notes
Add additional details by adding notes about events, layers, and the timeline itself.
BC Dates
Create timelines that took place thousands of years ago.
Date Picker
Use our date picker to quickly select a date or type it in for greater control over the format.
What Students and Teachers are Saying About Preceden
I have my AP World History students create a timeline for each period where they include the major events, the cause and the effect of the event, and why they chose that event. My students love Preceden because it is so easy to use and helps to visually see what we talk about in class.
Preceden has proven an extremely useful tool for both organizing and displaying data for my dissertation research. The simple-to-use interface offers the exact functionality that I need without distractions.
I am also a homeschooling parent and was looking for an app to use for history studies. My main criteria were for the app to be online and simple to use. I evaluated at least five different downloadable apps and several online versions. The downloadable apps were way too complicated to use, and the online apps were mostly meant for social sharing. Preceden is extremely easy to use and it lets me focus on my studies and not on the mechanics of organizing my notes.
I use Preceden to create an embedded 12-week schedule for my students so they can get an overview of what's coming next. Also, to create a weekly timeline for classes, tasks and assignments as well as a visualization of the various potential learning paths available for my prospective students. I love the simple, clean design and the detailed data that appears in the event list below the visualization. There are also multiple color and layout options available to customize the look and feel of your timelines.
How do I make a timeline with Preceden?
After you sign up, you'll set the timeline's name, choose whether it's public or private, and select from one of our beautifully designed themes. As you add events Preceden will automatically generate a timeline visualization for you.
Why choose Preceden?
With Preceden's intuitive interface and powerful visualization features you'll be able to quickly create and share impressive historical timelines. No need to fumble around with pencil and paper or spend hours learning how to use other tools.
Can I really create a timeline for free?
Yes, Preceden has a generous free plan that lets you create unlimited timelines with up to 10 events each at no cost to you. We also have paid plans that let you create timelines with unlimited events and also offer more advanced functionality.
What if I have more questions?
Drop us a note anytime and we'll get back to you shortly: [email protected]